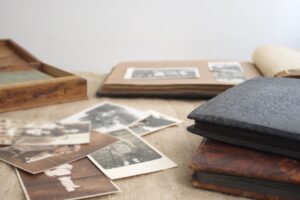 News
Continuing with the tangled roots of my family. Firstly, my Dad, the posthumous baby wasn't the son of the man he had believed was his
Read More »
Walks Thro' Coventry
Edwin was a journalist, author and Registrar of Births and Deaths in the city of Coventry at the turn of the twentieth century. In 1916 he rewrote and updated an old edition of a guidebook, Walks Thro'Coventry, During four city walks he leads us street by street, sharing tales of the origins and growth of the city.

He describes the significant buildingsand businesses of the day and transports us backto a different place, before two world wars,the decimation of the city by the Blitz and the rebuilding of modern Coventry.New illustrations and foreword by Paula Jeffery, Edwin's great, great granddaughter.
Chasing Rainbows
Chasing Rainbows is a layered portrait of an English family spanning a time period from the early eighteenth to the late twentieth century. Beginning with William Rainbow, born around 1710 in the village of Cotesbach, Leicestershire, tracing his descendants to the present day. Written originally to organise and preserve her research Paula Jeffery's genealogy stories took on a life of their own and her interest in history and detective work combined to produce a compelling account of family life during the the past 300 years. The journey was peppered with mysteries: What was the motivation for a young man to run a razor across the neck of his girlfriend while she slept? Why did a mother and daughter both die suddenly at the age of twenty-one? How was a runaway apprentice linked to the gruesome murders of the Tickners in Hobart, Tasmania? Whether you have a specific interest in the Rainbow family or a passion for family history this book affords a fascinating glimpse into the lives of our ancestors.