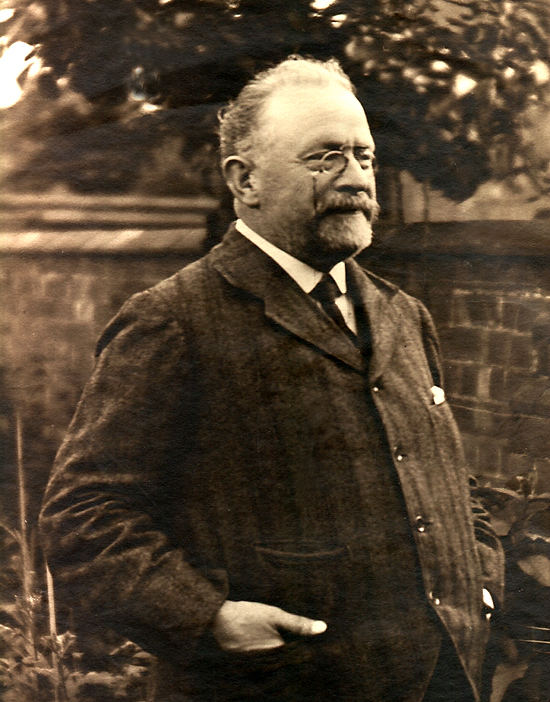 I never met Edwin Rainbow but I knew a man who did.
Edwin was the beloved grandfather of my own lovely grandfather, Leonard Rainbow.  Len was 12 years old in 1918 when Edwin died suddenly at the age of 66.   He had been close to Edwin – the extended family had lived in the same house –  and the shock of his early death affected Len deeply.  He spoke with affection about his grandfather and how Edwin would take him into Coventry and what an impressive sight he was with his top hat and pocket watch on a gold chain.
Len died in 2000, aged 94 and I wish I'd asked him more about Edwin.  Although I've found out about many aspects of my great, great grandfather's life, probably much more than Len knew about him, I know few personal details.
He was born in 1851 in High Street, Coventry the son of silk weavers.  By the time he was ten the city was hit by hard times as the silk weaving industry began a rapid and dramatic decline.  Such was the devastation that a national fund was organised to send relief and many people left the area or emigrated.
Edwin's parents, James and Sarah stayed however and Edwin attended Bablake School, leaving at 15 to train as a printer's apprentice.   He went on to work for several Coventry newspapers and became a journalist.  He later became Registrar for Births and Deaths in the city and was involved, as Secretary, in numerous local institutions including the Coventry School of Art and the Coventry Technical Institute.
Towards the end of his life he developed a passion for Bohemia and wrote articles for national newspapers describing his trips.  The freedom of Prague was conferred upon him in recognition of his services in disseminating information concerning that country .  However, he didn't neglect his own country and home town.  He wrote the official guides for the celebration of Queen Victoria's Golden and Diamond Jubilees and this book, Walks Thro' Coventry was published in 1916.
It would appear that this version was based on an 1888 book published by Caldicott and rewritten by Edwin.  Much of the material relates to the changes that had taken place in Coventry in the preceding twenty five years.
As Edwin gives us a tour of the city centre, road by road mentioning the benefactors and businesses along the way we are reminded of gracious tree lined avenues and sparse traffic in a time before Coventry was decimated by the Blitz, when all its historic grandeur remained largely intact.
Walks Thro' Coventry gives a unique insight into a city at the turn of the centruy with Edwin exploring the past but also expounding on the progress the city had made and its hopes for the future.
2018 and 100 years after Edwin's death I've republished his book.  It includes 13 new illustrations and is available in the USA here:
Walks Thro' Coventry at Amazon USA
Walks Thro' Coventry at Amazon UK
SaveSave